The ability to provide a refund is undoubtedly the most indispensable feature for any marketplace site. In fact, majority of customers will check the refund policy meticulously before placing an order. Black Passport Stamps boasts a 7 day refund policy window for trips and events, which gives customers a feeling of comfort when booking. Taking that into account, it's important that we ensure a seamless process for providing refunds.
If a customer requests a refund within 7 days of their purchase, vendors will then request a refund through the Store Manager Dashboard -> Orders -> Order Actions and the request is then processed accordingly by BPS.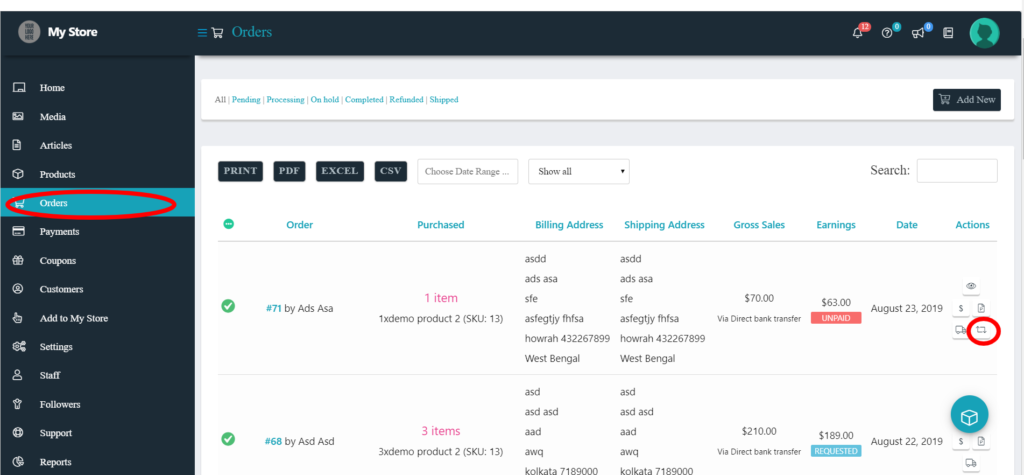 Upon clicking on the refund icon (placed under the actions column) the vendor will be prompted to fill in the details of the claim like this:
Refund Request : Here the vendor can select if he/she will apply for a full refund or partial refund from the drop-down. In the case of partial refund, the vendor has to fill in the refund amount which is to be claimed.
Note: If the vendor decides to refund a customer after the 7 day policy has expired, BPS will only approve a refund of an amount excluding the admin fee. The admin fee will be provided as store credit to the customer and will not be returned to their payment processor. This is mentioned in our refund policy in section R-1.6.
Once the request has been placed and approved by admin, the refund gets reflected in the order list as shown here (for partial refund):
Note: If the vendor has already requested or withdrew sales proceeds, then they will not be able to ask for a refund.
Note: Refund requests are only available for orders that have been paid by the customer (orders in a payment plan or paid in full)